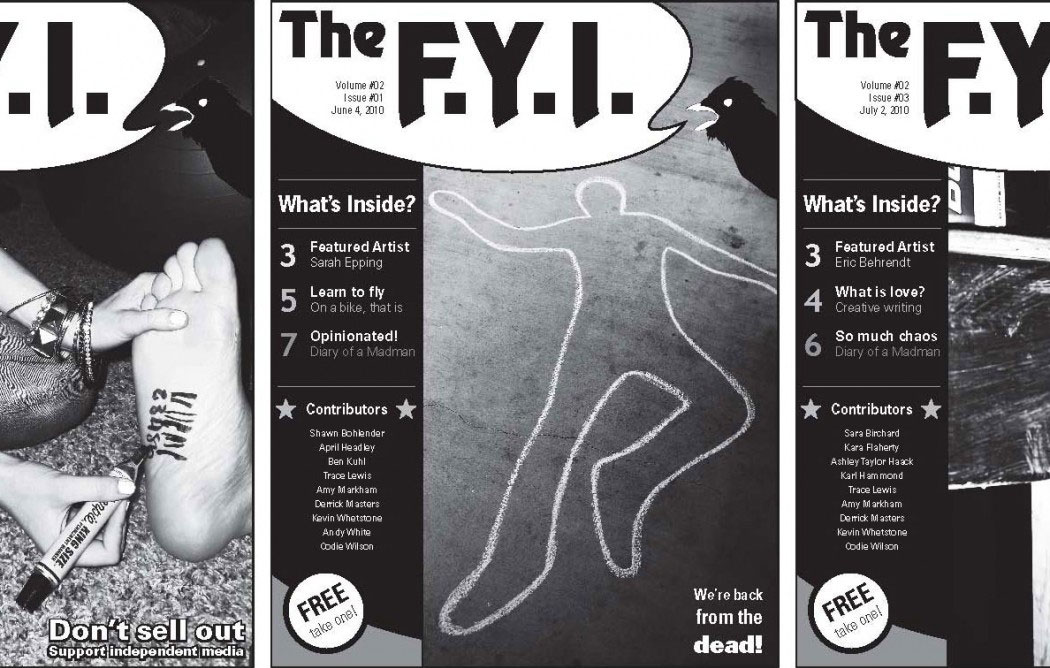 The further I got through my journalism program, the more I wanted to create my own publication. That's when I created The F.Y.I., an 8-page biweekly zine that focused on alternative news, cultural events, and the work of local artists, writers and musicians. It was also a major point to make the zine free and readily available so the work within its pages had every opportunity to spread.
My work on The F.Y.I. includes assembling and managing a staff of regular contributors, compiling and editing content, laying out and printing the publication, distributing to several local businesses as well as zine distros across the country, collaborating with others to manage and promote local events for the arts, designing and selling merchandise, creating strong social networking ties, building a website complete with an online store, and selling advertising space.
Altogether, there were 14 issues in Volume 1, followed by a break, then 3 issues in Volume 2. Eventually, after much deliberation, my collaborators and I decided to abandon the zine as we graduated college and moved on to other opportunities.
Copies of The F.Y.I. Volume #02 can be downloaded below:
---
Date: January 2009 - July 2010
Project Checklist: Project Management, Publication Design, Creative Collaboration, Multimedia Presence